Voted the best fitting denim for women.
Lets Talk Denim + Our Obsession with Kancan Jeans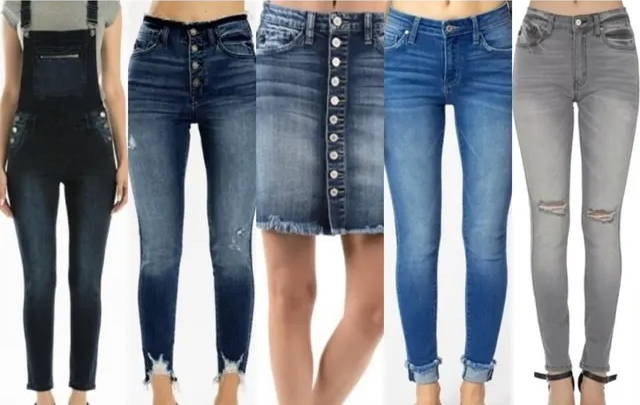 Ever since I can remember, jeans have always been "a thing". Finding the best fitting pair of jeans for your body isn't easy. The rise, the inseam, the fabric, the style.
When we came across Kancan jeans a few years ago, we were curious, but leery. I mean, who doesn't love the amazing fit of those trusted black Lulu Wunderunders every, single, day?
As soon as your first leg goes through a pair of Kancan jeans you instantly know they will fit like a glove. You can feel it through the fabric! Whether you choose zipper fly or the button fly; skinny fit or straight fit; you know exactly what to expect from the fabric hugging your every curve to the perfect placement of those back pockets!
We at Oak&Pearl Clothing Co have been hooked on the ankle skinny fit (which aren't ankle length, but are skinny at the ankle) because the skinny fit fabrics have an amazing stretch that feels just like you are wearing leggings. Add in some distressing (or not) and you have the best fitting pair of jeans you have ever tried on, PLUS they look super cute with a pair of booties.
- bell bottom style
- high rise
- distressing
- dark wash
- button fly
- overalls
- zipper front detail
- no distressing
- dark wash
- five pockets
- straight fit
- button fly
- medium wash
- some stretch
- distressing
- straight fit
- button fly
- light wash
- tons of stretch
- distressing
I'm like every other woman: a closet full of clothes, but nothing to wear: So I wear jeans.

Kancan Jean Collection
x
Oak&Pearl Clothing Co
Shop our collection of Kancan Womens Jeans in sizes 3 to 3X plus size and choose from styles of denim jeans, shorts, jackets, overalls, and now Kancan Ryder Leather Jacket. #sostyled
Enter your email and be the first to know about the latest arrivals!